Focus On Tobacco? Do dark times lie ahead?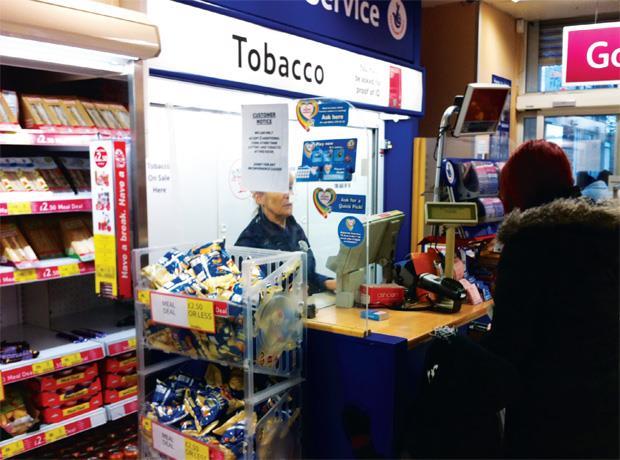 With the display ban looming, retailers and suppliers are frantically launching pre-emptive trials and NPD in a bid to limit the impact
Barring any last-minute legal challenges, the tobacco category - or a sizeable chunk of it at least - will go dark from 6 April.

This will mark the single-biggest change to the £15.3bn market [Nielsen MAT to January 2012] since the ban on tobacco advertising came into force in 2004. Yet no-one has a clear idea of how the ban will impact sales.

That's because no other country has introduced such a ban in phases. In the UK, uniquely, only stores above 3,000 sq ft have to implement the ban initially - for smaller stores, it does not come into force until 2015. So for the next three years, the public is going to have to get used to the perverse scenario of stores that are legally allowed to display tobacco products being located right next to others that are not.

While smaller independents might be rubbing their hands with glee, the likes of Tesco have been conducting closed kiosk trials to gain some understanding of what is around the corner for bigger retailers (see above) - and suppliers have rolled out a raft of NPD in a bid to gain as much traction for their brands as possible ahead of the ban.

With just over two months to go, no-one is under any illusion that the ban is going to give tobacco sales a boost - ominous news when so many big brands, especially those at the premium end of the spectrum, are already struggling [Nielsen MAT to Janaury 2012]. However, not everyone believes the impact will be as sudden or dramatic as initially feared.

"In trials we have found that tobacco sales volumes do not decrease," says Christopher Street, head of the grocery channel at Imperial Tobacco. "Serving times tended to increase at the start of the trials but once staff became accustomed to the modified units, they reduce."

In short, retailers need to be prepared, says Street. "There will be winners and losers in the multiple grocery channel when the display restrictions come into force. The key focus for all stores affected will be on meeting shoppers' needs. These are availability, information and purchase experience."

There is no getting away from the fact that that the whole shopping experience is going to change once the ban comes in and the shutters go up. It is certainly going to make it harder for brands to seed new products with smokers, which is why there has been so much pre-emptive NPD. They might be unwilling to admit it is linked with the ban, but it is no coincidence that over the past 12 months tobacco manufacturers have hit the NPD accelerator like never before.

Imperial Tobacco has attempted to create a new sub-sector of make-your-own, and Japan Tobacco International and British American Tobacco have both brought out flavour-changing cigarettes with capsule technology.

BAT, meanwhile, has made a big push with female-friendly demi-slim cigarettes and there have been new value cigars from JTI and Scandinavian Tobacco Group, not to mention four major launches at the value end of the increasingly popular roll-your-own (RYO) category.

The relatively niche appeal of many of these new launches means that developing on-shelf visibility ahead of the ban is key. So far it seems to be working. Imperial Tobacco's JPS Make Your Own range, which retailers such as leading CTN chain Rippleglen have flagged up as a hit, has sold around nine tonnes of tobacco - at a value of about £2m - since it launched in November.

On the whole, suppliers remain confident that retailers will continue to support NPD even after the shutters go up. JTI head of communications Jeremy Blackburn says that there is no evidence to suggest retailers will use the ban as an excuse to rationalise their tobacco offers or de-stock brands.

"If anything, it's about ensuring availability and not disappointing your customers," he argues. "Retailers need to be monitoring sales information very closely and reviewing local trends to ensure they have what their shoppers want when they ask for it."

As far as national shopping habits go, there's unlikely to be a huge shift in the trend that has dominated since the start of the economic crisis in 2008: downtrading and the rush to value.

Last March, health secretary Andrew Lansley pledged to continue with its policy of using tax to maintain high tobacco prices, therfore ignoring industry arguments that the significantly higher tax in the UK has a direct causal effect on the growth of smuggled and counterfeit tobacco products.

Rather than encouraging waves of quitting, smokers have increasingly turned to cheaper brands and the RYO sector - so much so that over the past year, the RYO sector has segmented into premium, standard and value tiers. Imperial has even to tried and create the new even cheaper MYO category in an attempt to prevent smokers from turning to still cheaper illicit tobacco.

There won't be any respite for premium brands any time soon, warns BAT UK head of trade Barry Cann. "Throughout 2012, we expect adult smokers to continue to downtrade to RYO and other value products in response to the challenging economy."

Value is not just a key driver for cigarettes. Even cigars, often seen as one of the ultimate symbols of success and wealth, are feeling the financial pinch. In April, JTI launched Calisto as a value-for-money cigar brand while Scandinavian Tobacco Group brought out a cheaper alternative to its Café Crème in October in the form of Moments.

"It's early days but we've been very pleased with how Moments has performed so far," says STG marketing director Alan Graham. "We were initially worried that it would take some of the sales away from Café Crème, but where they are both being sold together we have seen both grow sales."

Whether these new brands fare as well once the ban comes into force remains to be seen, but that is not all the industry should be worried about. The government is set to launch a consultation next month on the introduction of plain packaging for tobacco products. This could have a much more damaging impact on the category, believe experts, as counterfeiters will find plain packs easier to copy and black market operators could see it as an opportunity to sell more appealing looking branded packs.

Currently, around 17% of all cigarettes and 50% of all rolling tobacco sold in the UK are illicit, according to Blackburn. In terms of RYO, this is actually much lower than it was 10 years ago thanks to increased efforts by both suppliers and customs, but much of this good work could be undone if plain packs were brought in, he warns.

"There are real concerns that plain packs could exacerbate even further the problems associated with illicit trade," he says.

Earlier this month, the industry began work to persuade the government that plain packs would be a mistake with a campaign organised by pro-smokers group Forest. More work is sure to follow, but the big question is: will the government be swayed? Recent evidence would suggest not.