Tesco planning to offer Clubcard customers free movies and TV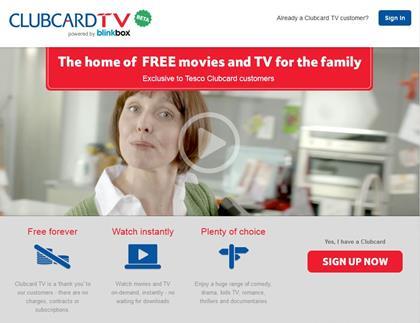 Tesco is preparing to offer a free movie and TV service to its Clubcard customers.
The retailer has applied to trademark 'Clubcard TV' and has built a website that says Tesco customers will have free online access to thousands of TV shows and movies from a selection that would be regularly updated. The service is currently being tested by Tesco staff and is not available to members of the public.
Among the movies featured on the front page of the site are Care Bears and Batman cartoons, and BBC TV series Two Pints of Lager and a Packet of Crisps. Tesco said it would be able to recommend movies and TV shows to suit customers' individual tastes as the service developed.
"We're always looking for new ways to reward our customers' loyalty," said a Tesco spokesman. "We're trialling Clubcard TV with colleagues to get their feedback before rolling it out more widely."
Clubcard TV is powered by the Blinkbox video service acquired by Tesco in 2011, and which it already uses to offer free digital versions of some titles when Clubcard customers buy the DVD of BluRay movie.
Last summer, Sainsbury's ramped up its push into digital media by licensing US business Rovi Corporation to provide movies and TV shows on demand - a move that followed its acquisition of ebook retailer Anobii and online entertainment company Global Media