digital edition
Richard Benyon dared to offer the public advice on how they could reduce the colossal amount of food they waste…
How to sell? Well, that rather depends on what you are selling…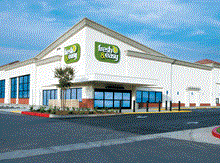 So farewell Fresh & Easy. And I for one am feeling sad because this venture didn't have to fail.
Poll
Who will be the ultimate winner from the Morrisons deal with Ocado?
View poll results
Empty and soon-to-be empty units on the high street are potentially making way for yet another wave of convenience stores…
Sir: Clive Black was right to say the retailer space race is changing, but wrong to say it is over….