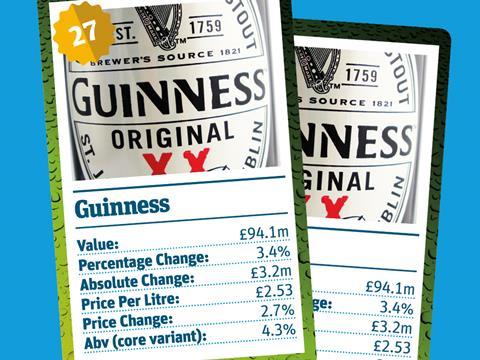 Sales: £94.1m Growth: +3.4%
It's been a long time coming, but the black stuff is finally back in growth. Not that the original stout has had much to do with it; Guinness Draught has contributed a meagre £100k to the brand's £3.2m growth and Original is down by the same measure. Volumes are down for both.
The real turning point came last September, when Diageo launched two new beers, Dublin Porter and West Indies Porter, under a scheme dubbed the Brewers Project. So far these two brews, and a Golden Ale launched in April, have racked up nearly £3m.
"This is a platform whereby our brewers are liberated to innovate across a wide range of beers," says off-trade sales director Guy Dodwell. "We will continue to explore and develop further beers."
Guinness Foreign Extra Stout has also had a strong year, with value sales surging 43.2% to £4.9m on volumes up 50.9%. Distribution gains among the major multiples and convenience retailers as well as growing consumer interest in world beers helped.
That's not all. The overall brand is enjoying something of a renaissance thanks to the NPD and the relaunch of Guinness Original earlier this year, says Dodwell. "The trademark is now playing a more prominent part within premium bottled ale, which is having a knock-on impact on Foreign Extra."