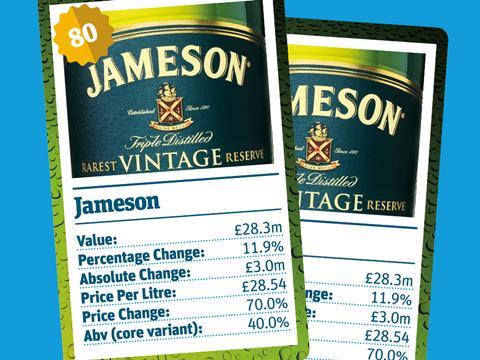 Sales: £28.3m Growth: +11.9%
Bourbon isn't the only whiskey with an 'e' that's doing well at the moment. The Irish stuff is in fine fettle, too.
And punters will pay more for it; with an average price of £28.54 a litre (up 0.7%), Jameson is not far off the £30-plus a litre that single malt Scotches fetch these days. The brand puts drinkers' growing willingness to shell out for a shot down to ramped up marketing, focusing on the craft of distilling, around key events throughout the year.
"The Jameson craft campaign, which focuses on combining the brand's passion for craftsmanship, the art of Irish storytelling and the spirit of inclusiveness, is helping to drive this fantastic performance," says Pernod Ricard commercial director Chris Ellis. "Consumers vote with their feet and our marketing aims to drive demand and awareness in and outside the store or venue."
In the coming year, the strategy will continue to centre around pushing the brand's premium credentials, says Pernod Ricard.
In reflection of Jameson's Irish heritage, St Patrick's Day will continue to be a focus. This year the brand released a limited-edition gift pack and rolled out PoS material with the 'Take some of our work home with you this St Patrick's Day' theme. Next year's St Paddy's Day is set for similar antics. Guinness, the official drink of the event, had better watch out…