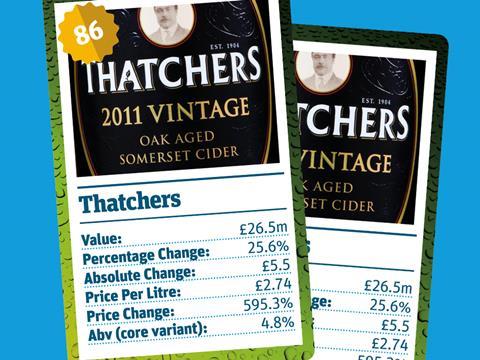 Sales: £26.5m Growth: +25.6%
Thatchers has struck Gold, with distribution gains for both its flagship cider and variants including Old Rascal, Vintage and Katy contributing to £5.5m in sales growth. Not bad for a brand that made its top 100 debut only a year ago.
Retailers have also embraced 2015 launches Thatchers Red and Thatchers Somerset Haze - designed to tap demand for sweeter ciders - and a new canned version of Old Rascal, which has been given a branding revamp. Listings success hasn't been confined to these shores, either, with the Somerset-based business signing contracts to take its ciders to Australia and the US.
Determined to maintain its strong growth, the business last month launched outdoor ad campaign What Cider's Supposed To Taste Like, and will continue its TV advertising this summer. Sponsorship remains a key element of the brand's marketing, including tie-ups with the Glastonbury and GoldCoast OceanFest festivals, Bath Rugby and Somerset County Cricket.
Thatchers has also continued to invest in its infrastructure. "This has included a new state-of-the-art packaging facility," says MD Martin Thatcher. "In the orchards, more than 100,000 new apple trees have been planted this year alone, and considerable focus is put on ensuring the fruit grown is of the highest quality."