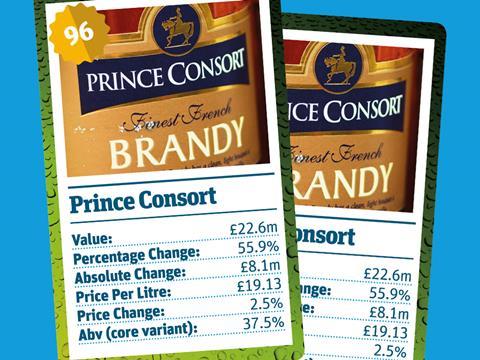 Sales: £22.6m Growth: +55.9%
The economy is finally on the up, but Brits are still suckers for a bargain. Particularly when it comes to booze.
Just look at Landmark Wholesale's Prince Consort range of vodka, blended Scotch, brandy, gin, and rum for proof. It's racked up an extra £8.1m in value in the past year, all without altering its average cost per litre - the only brand in our top 100 to record zero change to price. The rate of growth in percentage terms is the year's second highest after Valdo (75).
"This is down to several factors," says Landmark business development director Chris Doyle. "The continuing trend towards discounters is attracting attention towards great value, such as own brand, which means consumers are open about their search for great value. When it comes to offering fantastic value for money, our own-brand ranges deliver. We have the right range and at great value prices."
Prince Consort's growth suggests continuing polarisation in the spirits market. A 70cl bottle of Prince Consort vodka carries an rsp of just £11.49; Landmark recommends its retailers sell 50cl of Smirnoff 21 (2) for £11.99. Yet both cheap and pricy vodkas are in growth.
Landmark says it will look to build on Prince Consort's growth with more of its All You Need business drive promotions, which it says have been "incredibly successful".