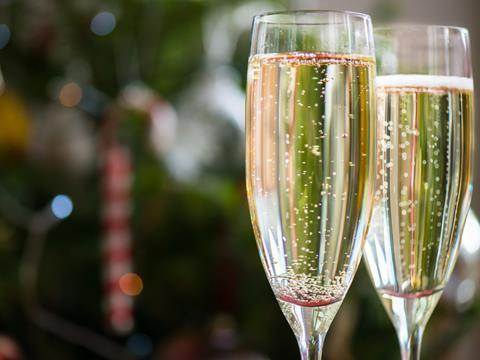 Supermarkets sold more than 40 million bottles of sparkling wine in the last quarter of 2016 – the highest volume ever in a 12-week period, latest figures show.
Off-trade sales of sparkling wine reached £270m in the last three months of the year, the Wine and Spirit Trade Association's latest Market Report revealed, up 10% on the same period in 2015.
Total sales of sparkling wine, including off-trade, were worth over £1.2bn as shops, bars and restaurants sold 995,000 hectolitres – the equivalent of 132 million bottles – last year.
Britain's love of fizz is boosting sales of English wine, of which around a third is sparkling, the WSTA said.
M&S reported a 100% rise in sales of English wine in 2016 after increasing its range from 20 to 37 SKUs. In the six weeks to Christmas, the retailer sold one bottle of English wine for every 10 bottles of Champagne.
"It's a really exciting time for English wine as the quality continues to go from strength to strength," said Elizabeth Kelly, M&S English wine buyer.
"Our customers' appetite for English wine shows no sign of slowing down, with sales up 100% on last year. Our English fizz in particular has proved popular, with the Marksman Rose from Ridgeview up 200%."