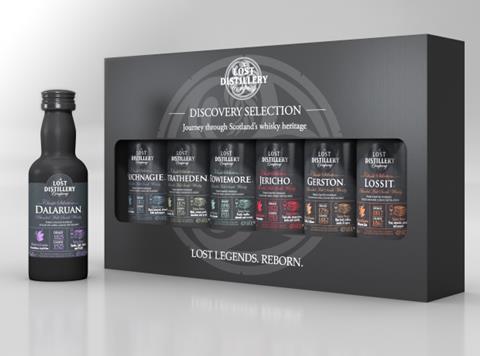 The Lost Distillery Company has unveiled a 'Discovery Selection' gift pack of single malt whiskies.
The packs feature 5cl miniatures from the brand's range, designed to represent what historic whiskies from 'forgotten' producers like Auchnagie, Stratheden, Towiemore, Jericho, Gerston, Dalaruan and Lossit would have tasted like.
They launched into online and specialist retailers priced at £34.99 this week.
"We've spent the last four years developing and refining our diverse portfolio to bring the stories of some of Scotland's lost distilleries back to life", said Lost Distillery Company co-founder Scott Watson. "Our new 'Discovery Selection' boxes allow consumers to get a taste of whiskies from across the range and what these forgotten malts might be like if they were still in production today."
More than 100 distilleries have permanently closed over the past century in Scotland.
Those selected for rebirth by The Lost Distillery Company had been "uniquely profiled to reflect each region in Scotland", said the brand, which conducted "in-depth research" into the era, locality, water, barley, yeast, peat, type of mash tun, still and cask of the original products during creation.