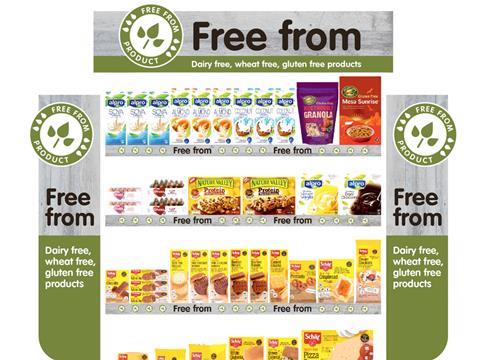 Alpro is to turn its focus on the convenience channel with the trial of a new free-from fixture created in conjunction with Spar.

The ambient fixture, which also includes non-Alpro products, is being trialled in 55 Spar stores supplied through wholesaler AF Blakemore from this week, and is also available for independent retailers to buy.

It followed a similar initiative to create a dedicated chilled dairy alternative fixture with Tesco last autumn and represented a fresh direction for the brand, said Alpro UK commercial director Sue Garfitt. "The Tesco fixture has created a lot of interest and spurred other retailers on to create a mainstream dairy alternative category."

The brand was now looking to improve sales outside the mults, Garfitt said, noting plant-based food and drink in impulse and convenience had grown 15% in the 12 months to December 2016 [Nielsen].

"Despite this growth, impulse and convenience still under-indexes, and only accounts for 2% of all plant-based sales," she added.

"This signals a huge opportunity for the channel that Alpro intends to drive throughout 2017 and beyond with a host of new initiatives for retailers, details of which will be unveiled in the coming months."

To support wider retailer uptake during January, an educational category pack on dairy alternatives will be included in all retailer briefings. An Alpro PoS kit would also be available to stores, including a countertop display so "even the smallest stores can feature an Alpro range", Garfitt said.