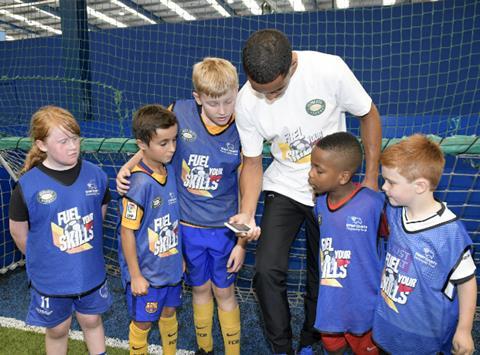 Roberts Bakery has teamed up with Derby County FC on an app with the goal of getting young football fans to practise their on-pitch moves.
The Fuel Your Skills app is a joint venture between Roberts and the Rams, who are sponsored by the Ilkeston-based brand and run a soccer school programme that attracts more than 7,500 children each year.
The app was kicked off by Derby forward Tom Ince at the Powerleague Derby Soccerdome, where he was joined by local youngsters aged from four to 11. It allows kids to upload and share videos of their skills and generate votes to get to the top of a leaderboard.
Those topping the board at the end of the summer will win match tickets with hospitality, a Rams shirt signed by the whole team, and a pitch-side photo with Ince, son of former Manchester United and England midfielder Paul Ince.
The aim of the new app for Roberts is to "associate nutritious, energy-giving qualities of bread with healthy active lifestyles", according to Robert Higginson, chairman of brand owner Frank Roberts & Sons.
"We want it to showcase the best of Derby's young footballing talent, inspired by top players, driven by the club's highly respected soccer schools and, in time, attracting all footballing families across Derby," he said.