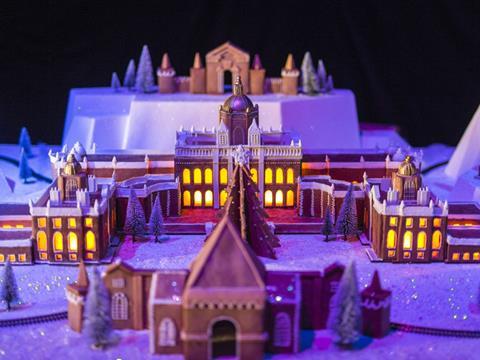 As Christmas nears, it's time to start building your gingerbread houses… and then feel depressed when you compare your pathetic efforts to the latest creation of Bompas & Parr.

This year B&P have modelled Yorkshire country pile Castle Howard in its not-inconsiderable entirety. At least eight separate sites have been baked up, including the impressive-sounding Temple of the Four Winds and - yummo! - the mausoleum. It all required 40kg of flour, 15kg sugar, 3kg treacle, 3kg syrup, 1.5kg ground ginger and 18kg butter.

And what better way than to link those sites together than with a gingerbread Hornby train? The delicious engine is - but of course! - fully functional. And the attention to detail doesn't stop there: the house's windows light up, and miniature trees line a reservoir. It's all dusted in sugary snow, of course.

When can we move in?