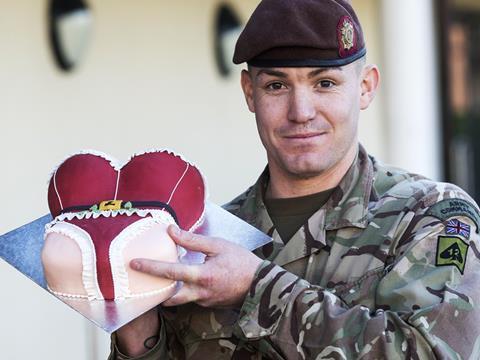 The armed forces are always complaining we don't have enough ships, guns and face paint to enable our boys and girls to do their jobs properly.

But maybe the troops have just lost focus. Exhibit A: the 'Christmas Cake Higher Culinary Skills Competition' run by the 3rd Armoured Division in Tidworth, Wiltshire last week.

Army chefs were given cakes and orders to decorate them with edible Christmas delights. And they did a lovely job. But while a steady icing hand might be useful for snipers, other transferable skills aren't obvious.

Cpl Shane Trienyer took inspiration from the John Lewis ad for his winning entry, which featured a special flexi-icing for the netting around the trampoline. Impressive, but our picture shows cheeky runner-up Sgt Karl Bartlett and his incredibly disturbing headless torso - sorry, 'Mrs Claus' underwear - cake instead.