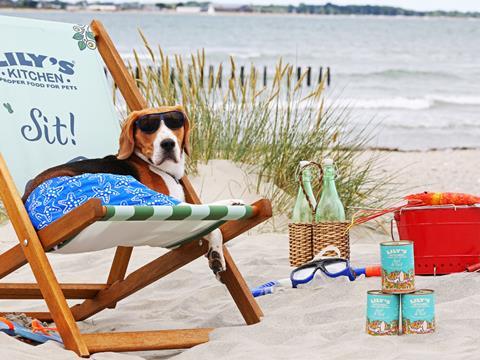 Petfood brand Lily's Kitchen really knows how to launch a product. No staid press releases or boring old product shots here! Oh no.

The brand took some hounds to the beach in West Wittering to mark the launch of its new flavour, Surf & Turf. There, some patient dogs dressed in an amusing selection of beachwear enjoyed some sand, sea and a snooze in a deckchair. As well as a 'refreshing mix of salmon, prawns, beef and tasty green vegetables', of course.

Not to be outdone, Ocado's pet store Fetch has unveiled a giant (4.5 metres across, one metre tall) drinking bowl-cum-paddling pool to remind owners of the importance of keeping man's best friend hydrated. The big bowl was unveiled in London's Kennington Park, but is going across the country on tour, so your canine can jump in if you're quick. What a time to be a dog!