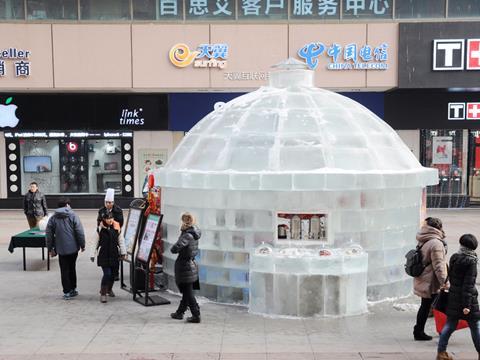 We're all familiar with igloos. But - unless you count the pretentious bar James Bond smashed up in Die Another Day - they're not usually places you can get a drink. Or food, for that matter.

So you might be surprised to learn of the existence - in China - of a fully functioning ice restaurant. This yurt-shaped eaterie has popped up on the streets of Shenyang, in the not-particularly-cold region of Liaoning Province.

The chilly café is made from 500 ice blocks, each of which weighs about 100kg. It's just under four metres tall, and seats up to 10 diners. So what do you actually get to eat? Well, weirdly, it's hotpot. Nothing else.

Sound appealing? If you can't afford the flights to China but have your heart set on eating nothing but hotpot in a frozen bubble where hardly anyone speaks English, Bogof suggests a trip to Lancashire. It'll be cheaper. Enjoy!