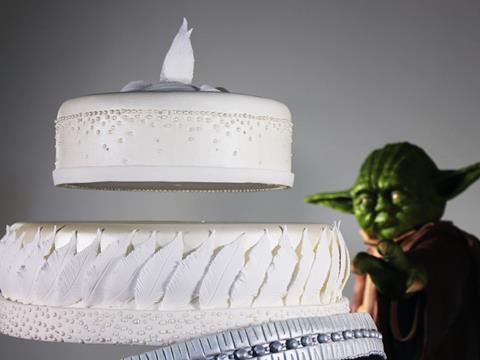 As the launch of the new Star Wars film looms, the sci-fi nerds in The Grocer's office are getting excited. They just can't wait 'to boldly go' see it!

But the force is perhaps stronger still in Cornwall - which is of course the spiritual home of sister-kissing, à la Leia and Luke. Cakemakers Perboryon have produced a very special sponge to mark the occasion: one that levitates.

The cake's creator Christine Jensen isn't letting on what actually makes the airborne treat float (and she probably isn't going to tell Bogof after that sister-kissing remark), but we're guessing it's either a particularly light and fluffy sponge or the work of Yoda, who helpfully has his own cake made of green icing. Whether he speaks in unintelligible and syntactically convoluted riddles is hard to tell. Then again, that wouldn't exactly be out of the ordinary in these foggy parts, would it?
Image courtesy of Peboryon/Rex Shutterstock