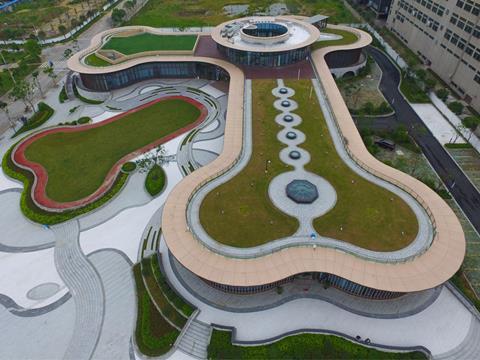 Pingyang, China, is something of a centre for the pet industry - dozens of companies make dog chews there.

Pet products are so vital to the local economy that authorities have invested $1.2m in a 'Pet Town' to promote it. Alongside its manufacturing base, Pet Town has a 'pet culture' museum and a pet hotel, alongside a pet-themed shopping street filled with stores offering dog and cat accessories.

Its crowning glory, as you can see, is the gardens that are attached to the factory building. They are designed to represent three interlocking chewing bones. Except, to quote Blackadder's Percy, the gardens are "exactly the same shape as a thingy". 'Bone' is almost right.

Well, the idea was to attract tourists. Now the area has a certain Cerne Giant vibe, which might bring in some trade from the fertility icon-worshipping community.