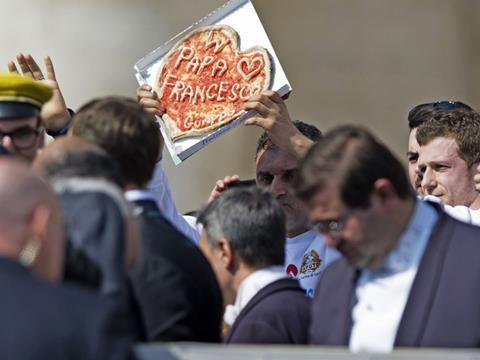 Pope Francis is a popular pontiff. Among his many modern pronouncements, he's supported single mothers, opposed deforestation and even spoken out against food waste – making him (on that last point) almost as holy as Jamie Oliver.

But there must be some downsides to being the Pope. Apparently one of Francis' main regrets is that his fame makes it difficult for him to pop out for a pizza – doubly gutting, one imagines, for a bloke who lives in foodie heaven Rome.

Still, if he really fancies a Pope-peroni, he can always order one in. And even if St Domino's is closed, Francis can always rely on his followers. One food-loving pilgrim turned up in St Peter's Square this week waving a special 'Papa Francesco' pizza.

The Pope was unable to accept the offering (well, would you eat it?), but was doubtless grateful. As long as none of it went to waste, obviously.