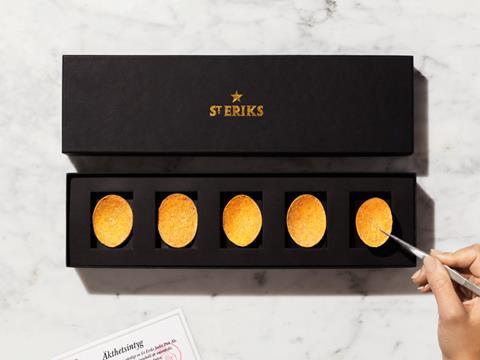 There's nothing like a serving of posh crisps to help one delude oneself that one is rather above the run-of-the-mill snacker. As if eating from a bag with a sketch of a wizened market stall owner on it makes you a discerning gourmet.

Now arriveth a range for the really insecure crisp fan. Swedish microbrewery St Eriks has teamed up with the Swedish National Culinary Team (it's a thing) to create a special range. They're made from Ammarnas potatoes and flavoured with matsutake mushroom, truffle seaweed, dill, leksand onion and India pale ale. They cost FORTY-SIX POUNDS FOR FIVE CRISPS, and are presented to the buyer in a poncey box.

As if to confirm that they are only to be consumed by the very worst people in the world, St Eriks advises that the crisps should be eaten with tweezers. Who thought 2016 could get this bad?