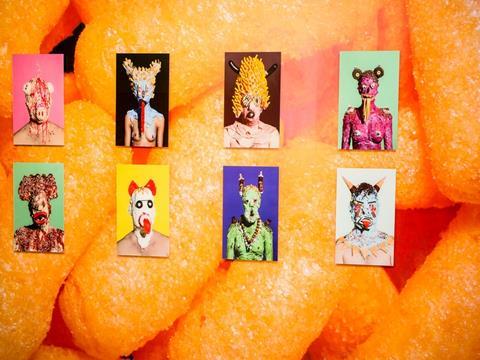 The worlds of art and food often meet, as deep thinkers ponder consumption… or shallow thinkers bake amusingly shaped cakes.

This week saw food brush with both 'high' and 'low' art. At the Gazelli Art House in fashionable West London, James Ostrer has been exploring his relationship with junk food in a new exhibition. The show features models adorned with icky Wotsit hair, pallid cream masks and grotesque jelly tongues. It's really rather disturbing.

Meanwhile, on ITV's This Morning, Domenico Crolla was demonstrating 'pizza art,' which involves cutting out pop silhouettes of the likes of Marilyn Monroe and Kate Moss. Domenico even made a special one, featuring host Eamonn Holmes, which was… really rather disturbing.

Is this all a conspiracy to make unhealthy food give us the creeps? Almost certainly. Look and learn, DH.