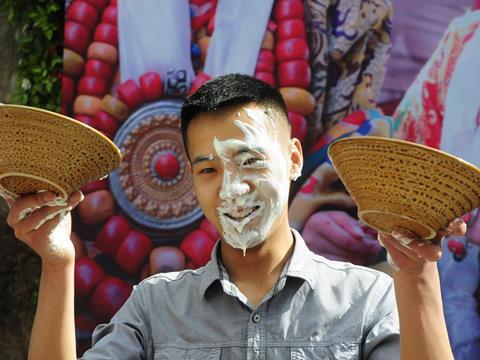 In a world where we're trying to prevent food waste and promote healthy eating, the idea of a consumption competition seems badly out of date. No one wins in a hotdog-eating contest. Even that bloke off Man v Food is on the salads.

In Tibet, however, there's still something to be said for an eat-off. The annual Shoton festival celebrates yak yoghurt - in rural Chengguan, it's not only vital for health, but culturally important as China's rapid modernisation threatens a traditional way of life.

But that's no reason for the fest not to be fun, and what better way to get tourists involved than to stage a yak yoghurt eating contest in a Sichuan theme park? The no-spoons-allowed contest (consume as much as you can in five minutes) got predictably and pleasingly messy, before the crown was awarded to a Mr Liu from Leshan, who guzzled two big bowls. Congratulations!