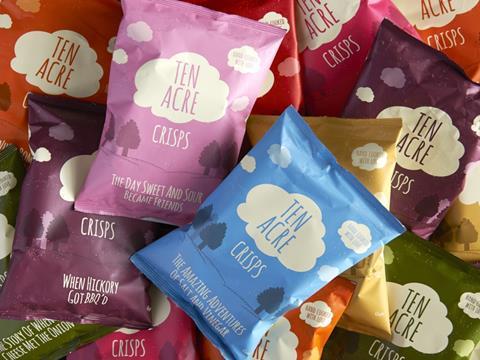 Premium snack brand Ten Acre has landed an international deal with a Canadian wholesaler to expand its rapidly growing export business.
The contract, which follows a trip by Prime Minister Theresa May to Canada last week, is estimated to be worth about £200,000 a year to the company.
Ten Acre has agreed a tie-up with Canadian Choice Wholesalers, which focuses on natural and speciality products, with the first shipment set to be sent this month.
The Manchester-headquartered business started exporting its range of crisps and popcorn two years ago, growing its markets to more than 45 countries, including the US, Canada, the Middle East and Europe, with a third of revenues generated abroad.
In February this year, Ten Acre was named a government 'Export Champion' after boosting overseas trade since the Brexit vote in June 2016.
CEO Tony Goodman said: "We're delighted with this new distribution deal in Canada. Having achieved a tremendous response to initial trials, we expect to build sales to more than £200,000 a year and develop a loyal clientele across the region."
Prime Minister Theresa May added: "It's great news that Ten Acre have won this deal to supply their unique products throughout Western Canada.
"We know there's a strong global demand for high-quality food and drink from the UK and I want to see more firms building links in lucrative markets such as Canada and the United States."