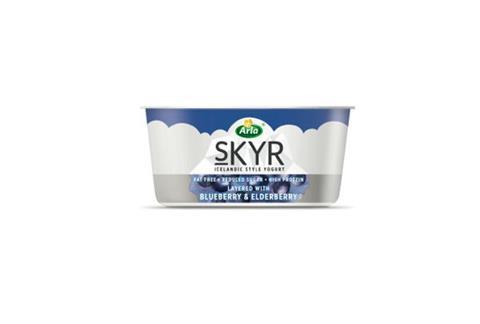 Arla Foods is expanding its range of Icelandic-style Skyr yoghurts on the back of strong sales.

The co-op has launched a new Blueberry and Elderberry flavour featuring a compote topped with skyr yoghurt. Available in a 150g pot (rsp: 85p), the variant went on sale in Tesco this week.

Arla said it hoped the "interesting and intense" new flavour would encourage "even more consumers" to try skyr, which has been dubbed the Icelandic 'super-yoghurt' and is enjoying a surge of popularity in the UK due to its fat-free, reduced-sugar and high-protein content.

Arla's own range of skyr products, launched this April, have already racked up sales of £4.3m, with a quarter of spend coming from new shoppers to the category.

"We've had a brilliant reaction from shoppers since launching Arla Skyr into the market in April 2015. Penetration has been really strong - we've managed to attract a high proportion of new shoppers to the category," said Arla Foods UK brand manager Louise Hagger.

"To maintain momentum we've been busy behind the scenes developing new and innovative flavours that we trust consumers will love, to ensure that the product range remains popular."

She added Arla would reveal further NPD in the yoghurt category in the coming months.