British shoppers standing up for Fairtrade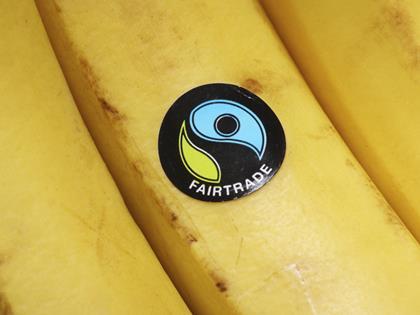 Shoppers are still forking out for Fairtrade, with volumes of ethical coffee, banana and cocoa all up last year, latest figures show.

Brits munched their way through 88 million more Fairtrade bananas and drank 255 million more cups of Fairtrade coffee last year compared with 2014, the Fairtrade Foundation revealed today.

Volumes increased in four out of five major Fairtrade categories: coffee (+12%), tea (+3%), cocoa (+6%) and bananas (+5%). There was also double-digit growth in volumes of Fairtrade flowers and wine.
The total retail value of the UK Fairtrade market dipped to around £1.6bn in 2015 compared with £1.7bn in 2014. The Fairtrade Foundation attributed this to a massive 36% drop in Fairtrade sugar sales following a drop in European sugar prices last year, which led to a shift away from imported sugar cane to domestically grown beet sugar.

If the collapse in the market for cane sugar is removed from the figures, overall Fairtrade sales grew by an average 4% in volume, while the retail value remained steady with around 1% growth, it claimed.

"These figures show that British shoppers remain committed to Fairtrade, despite the turbulence in the grocery market," said CEO Michael Gidney. "That's good news for those businesses offering Fairtrade products. We're delighted to see increases in most of the categories for which Fairtrade is best known - this means more producers are getting a better deal for the food they grow for us".

The figures come as Fairtrade Fortnight (29 February - 13 March) kicked off today with a new campaign calling on consumers to "sit down for breakfast and stand up for farmers" by buying more Fairtrade food.

The campaign claims millions of farmers around the world are still going hungry and struggling to feed their families despite working long hours to produce the food that adorns British breakfast tables.

"Farmers are going hungry to provide our breakfast, because we are not paying the true social and environmental cost of our food. Our world is increasingly unequal and unfair, but we can use the pound in our pocket to help choose carefully what we buy," said Gidney.

The Fairtrade Foundation is also urging the UK government to remove "unfair" subsidies and tariffs, introduce robust national policies to support improved workers' rights in supply chains, and back development programmes.

It wants retailers to commit to long-term relationships, clamp down on unfair trading practices, encourage the work of trade unions and make "crucial" investments in their own supply chains in partnership with organisations such as Fairtrade.