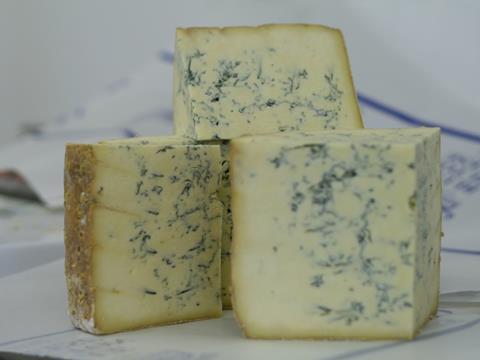 A blue Stilton made by Nottinghamshire-based Colston Bassett & District Dairy has been crowned supreme champion at the 2014 International Cheese Awards in Nantwich.
The cheese - which has been produced by the dairy for 101 years - beat a record 4,436 other entries to take the top award at yesterday's event (29 July).
"We are thrilled to have won such an outstanding accolade," said Colston Bassett dairy manager Billy Kevan. "Achieving supreme champion at the Nantwich Show is recognition of the hard work by our team at in delivering consistently good cheese for more than a hundred years."
The dairy also picked up the best British cheese prize at the World Cheese Awards in December 2013, and won the best blue and supreme champion awards at last month's Great York Show.
"Colston Bassett's whole blue Stilton is the perfect example of a great blue," said International Cheese Awards chairman Bruce Macdonald.
Waitrose was the most successful retailer, picking up a total of 22 gold awards, followed by Morrisons with 18 gold awards.
Norman McCallum, a cheese grader for The Wensleydale Creamery, picked up the British Cheese Board's cheese industry award for outstanding contribution to the industry.
A representative from The Grocer was among 200 judges at what is the largest awards of its kind in the world.