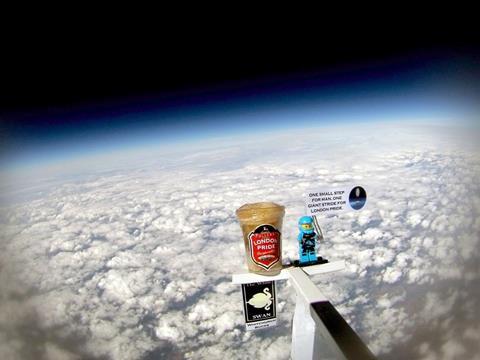 In space, no-one can hear you order a pint. But that didn't stop a pub sending one there.
A pint of Fuller's London Pride has been attached to a weather balloon filled with hydrogen, and carried to a height of 24km, into the earth's stratosphere, where it froze.
The launch was the initiative of Ros Bangs, tenant of the White Swan pub in Whitchurch, Bucks, who worked with rocket scientist Chris Smith to achieve lift off. It was second time lucky for the project – the first launch, on 5 July, went a bit Apollo 13 when both of the balloon's cameras malfunctioned, meaning no photographic proof.
Bangs said: "We were tired of seeing every village pub go 'gastro' so we decided to go 'astro'! Seeing as London Pride is our top seller what could be better than celebrating our locals' favourite tipple by sending it stratospheric."