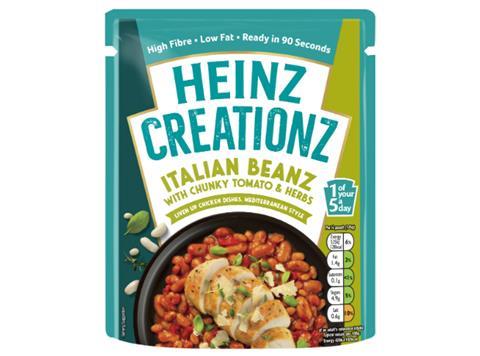 Kraft Heinz has revamped its Heinz Creationz range of beans and pulses, moving it from a can to a pouch and overhauling the variants.
With an rsp of £1.75, the 250g Creationz pouch is 36% smaller than the canned version but 36% more expensive, in a bid by Heinz to premiumise the ready-to-eat beans and pulses segment.
Aimed at offering greater convenience, the change in format comes two years after Creationz made its debut in an attempt to revive the then flagging canned category.
The new-look lineup was aimed at the "46% of consumers actively seeking out products that save time, and 38% looking for smaller serve packs" according Heinz
The range now comprises Lentil Curry, Mexican Beanz, Italian Beanz and Spanish Beanz, having made its debut in July 2016 with Mexican Beanz, Veg Chilli Beanz, Curry Lentils and Tagine Chickpeas.
The latest Creationz variants comes as the result of "30% of consumers actively looking for new and ethnic flavours when grocery shopping, and with international cuisines in growth in the UK".
In ready-to-eat beans and pulses "health, flavour and convenience are key" said Elise Lignieres, Heinz Beanz marketing manager. "Not only that – research shows the pulses aisle is a stronger fit for premium innovation, which is why our new convenient pouch solution will appeal to shoppers in the category."
Creationz's relaunch will be backed by a digital push targeted at a pre-family audience.