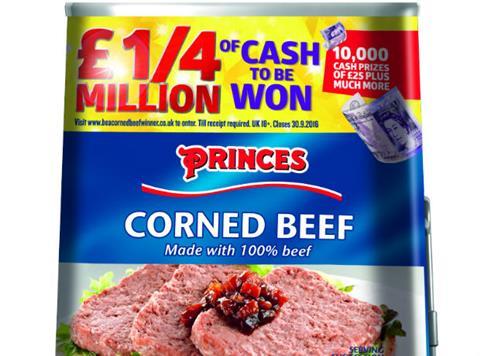 Princes is giving away cash prizes totalling £250,000 in an on-pack promotion on cans of corned beef.

The deal, which will feature on more than two million 340g cans of standard and reduced salt corned beef, will invite consumers to visit a dedicated website, where they will have to answer two simple questions to enter. As well as 10,000 £25 cash prizes, the brand is giving away 90,000 £1 money-off coupons.

Princes is also kicking off a second phase of cookery competition Corned Beef Hash Clash, which is hunting for Britain's best local and regional recipes for corned beef hash.

"During the winter months, we see an increase in consumer demand for corned beef, particularly from families," said marketing director Neil Brownbill. "We're hoping that this promotion, coupled with the Princes Corned Beef Hash Clash, will reinvigorate the category and deepen consumer engagement with Princes Corned Beef."

Sales of the Princes canned meat range are up 1.6% to £60.2m [Nielsen 52 w/e 10 October 2015].