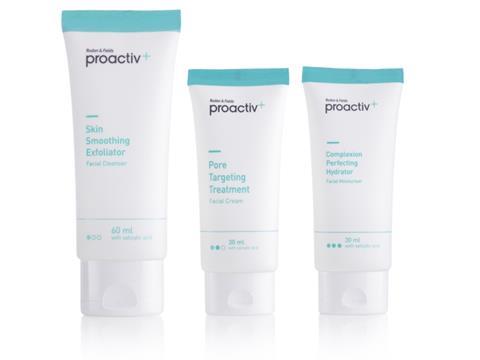 Proactiv has launched a skincare range in the UK that it claims is its 'most effective yet' at tackling spots and blemishes.
The Proactiv+ Programme Core System, which rolled out last week, is a three-step approach designed to deliver more salicylic acid to the pores to encourage spot-free, healthy skin.
Proactiv said the range had been developed from a 'skincare' rather than purely 'medical' perspective, which meant it was gentler than the original Proactiv formula, which launched almost 15 years ago. The brand claimed the latest products were made using an exclusive, patented formula designed to fight blemishes with more hydration.
Aimed at women, men and teenagers, the paraben-free, non-comedogenic system comprises a Skin Smoothing Exfoliator, a Pore Targeting Treatment and a Complexion Perfecting Hydrator (rsp: £19.99) that combine anti blemish treatments with ingredient such as glycolic acid, prebiotics, and kojic acid.
In addition to spot fighting, other benefits include a reduction in redness and pore size, improved skin tone and skin texture, Proactiv claimed.
Proactiv+ first went on sale in the US in July.