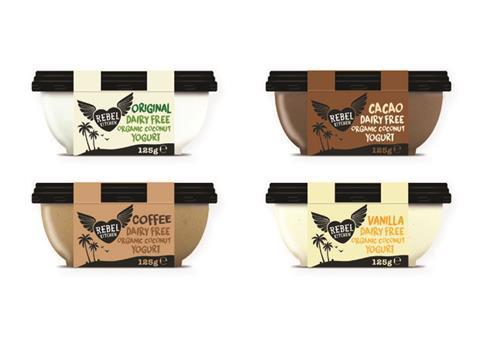 Coconut milk drinks supplier Rebel Kitchen has launched an organic dairy-free yoghurt range made from young green coconuts.

The newcomer will be available from Ocado, Whole Foods Market and independents from next week in four flavours - original, coffee, cacao and vanilla (rsp: £2.49/125ml).
The range was a UK first said Rebel Kitchen as it was made using meat from young green coconuts rather than the milk from mature ones – ensuring the yoghurts had a light and smooth texture. It provides 145 calories per pot – up to 110 calories less per 100g than rival brands and half the fat, it claimed.

"By using the whole coconut we ensure you can have it all in terms of sustainability and taste," said founder Tamara Arbib.
"People can enjoy our range of fantastic flavours at any occasion, whether for breakfast, a snack, or as a lighter alternative to dessert," she added.
"Despite the fact they contain far fewer calories than any other coconut yoghurts on the market, there is zero compromise to taste, and we continue to stick to our three simple rules, which means we don't use refined sugar, additives or preservatives."
The NPD marks the first activity for Rebel Kitchen since it acquired raw coconut water brand Unoco in January, with the yoghurt made using coconut meat that comes from the same young, green coconuts as the Unoco raw coconut water.