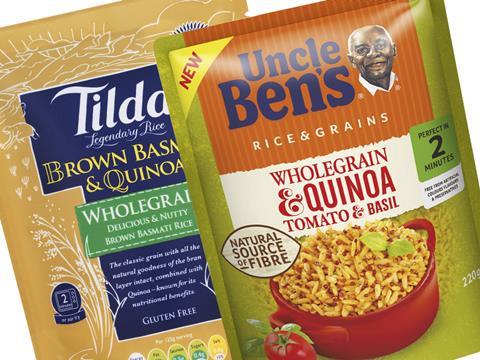 Pouched rice has become the bestselling format in the £500m rice & noodles category, overtaking plain packaged rice for the first time as Brits look for convenient carbs.

Volume sales of pouched rice have grown by a sixth year on year, to 45 million kg, while value is up 10% to £171.9m [Kantar Worldpanel 52 w/e 26 April 2015].

Plain packaged rice is up 2.7% to £161.8m, with volumes up 2.2% to 99.4 million kg.

The growth of pouches has come on the back of continued NPD fuelled by shoppers' growing appetite for wholegrain rice products. Last September, Uncle Ben's introduced pouched wholegrain versions of four of its flavours, which owner Mars said was in response to wholegrain rice sales growing by 82% over three years [Nielsen 52 w/e 17 May 2014]. At the same time, number two brand Tilda rolled out a Brown Basmati & Quinoa pouch, and followed this with Brown Basmati & Wild Rice in March. In April, Uncle Ben's introduced a range of five Rice & Grains products, made with wholegrain rice, quinoa and other grains.

"Wholegrain rice is a key category driver as consumers' dietary needs are becoming more complex," said Tilda head of marketing Anna Beheshti, adding there was a "clear opportunity to promote brown wholegrain basmati" as moderate GI and gluten-free.

Bulk rice is also booming, with sales growing 37.3% to £18.7m. The category as a whole grew 5.3% to £504.9m on volumes up 6.5%.