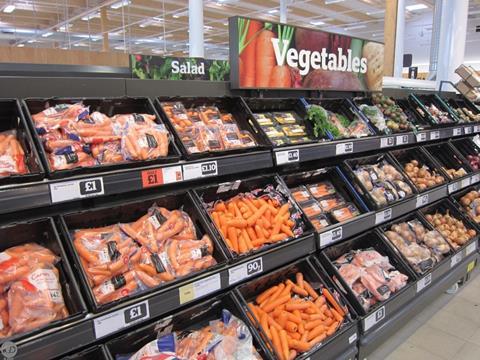 Sainsbury's is to recycle its old food crates into more efficient ones made from 100% recycled polymer - a move it claims is a first for a UK retailer.
At least two million old crates are being ground down into plastic flakes and recycled into a standardised design. This would enable more efficient stacking, said Sainsbury's, and reduce the number of road journeys needed to transport crates back to suppliers. Currently a range of crate sizes are used, which takes up more space in the back of trucks
The new format could result in a volume reduction of up to 30%, said the retailer, adding this would vary by supplier.
"This piece of work was not only about making the right decision for Sainsbury's from an efficiency perspective - it was also about making sure we did it sustainably," said Sainsbury's Supply Chain senior strategy manager Simon Stokoe.
The crates are being recycled by Schoeller Allibert, which said they are compliant with European Food Safety Authority standards. Historically, 100% recycled polymer has not been accredited for crates with direct food contact, said the supplier.
"Schoeller Allibert's EFSA-approved recycling and remoulding process has been developed to help retailers meet increasing stringent sustainability targets as well as strict food safety and hygiene standards," said Simon Moulson, head of retail sales for Schoeller Allibert.