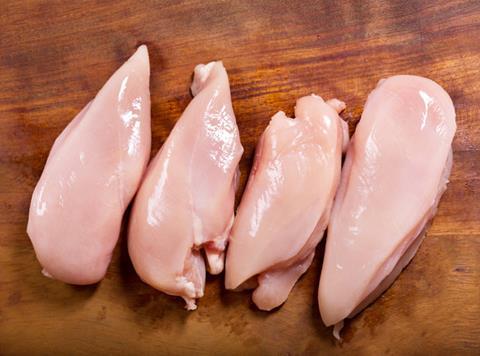 British farmers cut antibiotic usage in food-producing livestock by 40% in the four years from 2013 to 2017, according to Defra's One Health report, released today.
Food-producing animals now account for 26% of antibiotic usage by volume, compared with 38% in 2013, according to the study, which brings together data on antibiotic resistance in key bacteria tcommon to animals and humans, and isolated in meat at retail.
Of the antibiotics deemed critically important to human health, only 11% were used in livestock – a reduction of more than half.
Researchers detected no resistance to critically important drug colistin in e.coli or salmonella strains affecting food-producing animals, the report said. There was also "very low or no resistance" to third-generation cephalosporins. However, they did find low-level resistance to fluoroquinolones for e.coli and salmonella.
In retail chicken meat and food-producing animals, as well as people, resistance to fluoroquinolones was high for campylobacter jejuni, said the report, though the bug responded better to erythromycin.
The biggest percentage reductions in sales from 2013 to 2017 were for colistin (down 99%), fluoroquinolones (50%), and trimethoprim (49%).
"A key priority for the UK government is to protect human and animal health by minimising the development and spread of antibiotic resistance," said Peter Borriello, CEO of the Veterinary Medicines Directorate.
"Our total combined use of antibiotics in humans and animals dropped by 19% between 2013 and 2017, and represented falls for both animal (35%) and human (6%) medicine. Overall, there was a reduction in resistance to critical antibiotics."
It comes as the FSA published the third year of results from its study on campylobacter antimicrobial resistance in supermarket fresh, British chickens. The results from the year to July 2017 found levels of AMR campylobacter found on retail chickens had remained unchanged from the previous year, though there were fewer with resistance to erythromycin.
Meanwhile, the proportion of chickens contaminated with high levels of campylobacter had fallen significantly since the July 2016 study, said the FSA.
"While there is evidence that AMR campylobacter is present on whole fresh chickens sold at retail in the UK, the risk of getting AMR-related infections through eating or preparing contaminated meat remains very low as long as you follow good hygiene and cooking practices," said the FSA's science lead in microbiological risk assessment, Paul Cook.
The results follow the launch the government's five-year antimicrobial resistance strategy, which set out objectives such as reducing need for antimicrobials and limiting accidental exposure. Its aim is to set out the first phase of its 20-year plan for AMR to be under control by 2040, covering health, animals, the environment and the food chain.