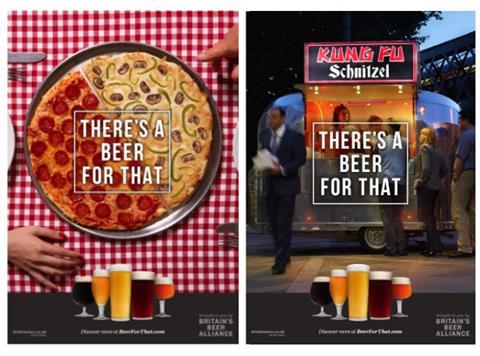 Beer industry campaign There's A Beer For That (TABFT) has launched a series of five digital outdoor ads.
Appearing for five weeks across train stations, roadside and high street locations in London, Birmingham and Manchester, they will run in the late afternoon and early evening as people are thinking about their dinner plans.
The ads point to five different foods, with the message that there is a beer that matches well with every one. The five dishes are: a gourmet burger, schnitzel sold from a street food van, pizza, pretentious gastropub fayre ('braised bath chaps and monk's beard remoulade') and a whole lobster.
"Our outdoor campaign celebrates Britain's exciting food culture and the brilliance that beer can bring to food," said TABFT programme director David Cunningham "Agency SapientNitro has created eye-catching ads to inspire people to choose beer to accompany their meals. It is an important part of this year`s overall programme which I believe is really contributing to beer`s renaissance in the UK."