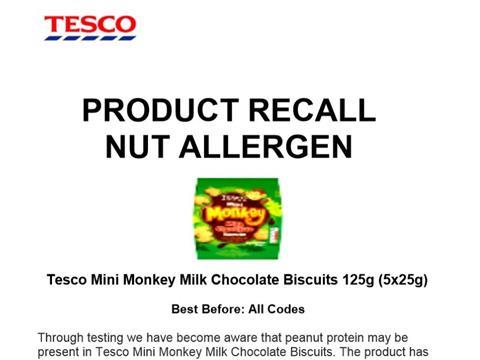 Tesco has recalled one of its own-label children's biscuit products after testing found undeclared peanut protein.
The retailer has recalled all date codes of its 125g (5x25g) Tesco Mini Monkey Milk Chocolate Biscuits because of the presence of peanut protein that is not mentioned on the label. The product has a 'may contains nut' warning but peanut is not declared on the product label.
Tesco said the peanut contamination was discovered during routine testing, adding that no other Tesco products were known to be affected.
"Customers allergic to or intolerant of peanuts are advised not to consume this product," said a spokesman. "Customers are asked to return the affected products to store where a full refund will be given. We apologise to customers for any inconvenience caused."
The news comes as the trade is on alert for nut protein following a raft of product recalls connected with spice becoming contaminated with almond protein. Industry insiders said there was no apparent connection between the Mini Monkey biscuit recall and the issues with contaminated spices.