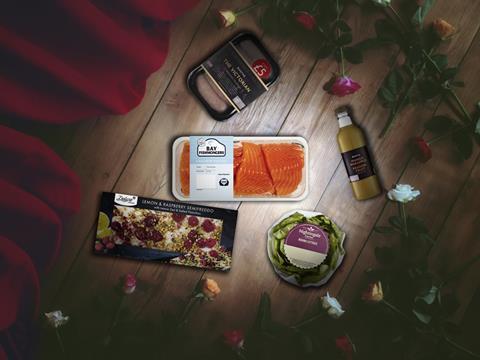 Encore! Own label has stolen the limelight, and the audience are loving it. So much so, they've splashed out an extra £105.2m on own-brand food in the past year in the mults alone [IRI 52 w/e 25 February 2017].

After the £625.9m losses suffered a year ago, retailers gave own-label products leading roles to help reclaim lost value. Tesco, for one, put it front and centre as part of Project Reset, signalling it would increase own label's presence on shelf by 14% with sections like health and free-from ramped up.
In this report
It seems to be working. Own label stole a 0.5 percentage point value and volume share from brands in the mults, giving it 33.6% of food & drink value sales. So, will own label be able to keep up this impressive performance? Or will brands fight their way back?

Taking into account other retailers - including the discounters, Waitrose, Co-op and independents - own label's performance becomes even more impressive, with a 0.9 percentage point value gain [Kantar Worldpanel 52 w/e 26 February 2017].

Both Aldi and Lidl have made a song and dance about the quality credentials of their own-label lines in recent years, with the latter going as far as directly comparing them to major brands in its Shop a Lidl Smarter campaign, which began in 2014. Simplicity of ranges is also key.

"Sourcing, packaging, branding and shelf space all come at a cost to a business. By focusing on one own-label product, we save on these costs and pass those savings directly back to the customer," says a Lidl spokesman. "Take our Batts Tomato Ketchup as an example. The price is a third of its branded equivalent, yet the quality is higher, with more tomatoes per 100g of sauce."

For Aldi, the key to driving success in own label is premiumisation but at affordable prices. Its Specially Selected range saw a 25% uplift in sales in 2016 to more than £600m. And it has its sights even higher, with sales expected to surpass £750m in 2017. "Shoppers are able to access luxury products that they may have previously felt they couldn't afford," says an Aldi spokeswoman.
Own label at a glance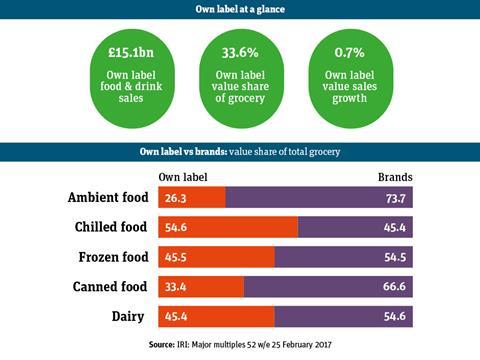 Own label as ultra-premium player
The top end of own label, argues packaging design specialist Equator, is not just competing against grocery brands - it is also taking on restaurants and boutique food outlets. And winning. Premium's percentage of value spend has increased from 5.6% to 6.1% over the past year [Kantar]. "Premium own label has moved so far beyond emulating the brand that, in many cases, it is the more expensive, luxury alternative to a mainstream branded item," says Howard Wright, Equator's creative director. "Retailers are using own label to take a 'fast fashion' approach to new product development that brands simply can't rival."
For proof, just look at ready meals where own label dominates and 'Dine in for £10' lines are rife, even though promotional tactics are changing in wider grocery.
Own label category snapshot 2017
"While the sector is coming under increasing pressure to curb bogof and multibuy offers, the 'dine in' style offers first pioneered by M&S and Tesco are increasingly popular," Wright adds. "For example, it is not by accident that Tesco's 'Dine In' promotion is located next to its premium meal for one ready meals, nor that it is situated in a centre aisle, prompting the customer to walk past all the promotional gondola ends in the chilled section to find it."

At the other end of the scale, Tesco rolled out its Farms brands, which have done wonders for the retailer. "The Farms brands have revitalised the value own-label lines and Tesco has essentially taken out a standard own label mid-tier and replaced it with cheaper options," says Fraser McKevitt, head of retail & consumer insight at Kantar Worldpanel, noting it's the mid-tier own label lines that are being squeezed as premium and value gain ground.

The key to creating a star range is differentiation, he believes. "We live in the days of price matching so when everybody is trying to match on price for brands, own label offers retailers the chance to be different," he notes.

Morrisons, for one, has recently overhauled areas of its own label to ensure this need it met. The move saw Eat Smart reintroduced in February, with NuMe phased out. Premium brand The Best was also resurrected in 2016. Northern retailer Booths, on the other hand, focused on the size of its own label range, expanding its portfolio by 500 products over the last 18 months. Fresh soup, snacks & nuts, and ready to heat were among the categories to receive extra attention.
Innovations in own label 2017
The impact of resets
Other retailers have been more active with axing brands, particularly in dairy, bread and booze. It's perhaps not surprising that own label (and the remaining brands) have flourished as a result. Anchor was hit hard in the great cheese spring clean, and even market leader Cathedral City took a knock. "In both cheese and butter, own label has grown value by 2.9% and 5.5%, respectively," says Gordon Walsh, sales director at Ornua Foods UK. "Retailers have made the own-label proposition more competitive and given more space to it. Retailers can't just use brands to battle against the discounters. They have been using their own label to win loyalty versus the other mults."

That's why Ornua is focusing on a long-term strategy to deliver consistent quality and the right products to customers, rather than pumping out NPD that won't stick.
PLMA preview
What : The PLMA World of Private Label
Where : RAI Exhibition Centre, Amsterdam
When : 16-17 May 2017
Helping consumers: that's the theme for PLMA's 2017 international trade show. "We want to underscore the role own label plays," says PLMA president Brian Sharoff, "and that is to give consumers good products at a reasonable price".
Innovative fresh, frozen and ambient food will be on display from nearly 2,500 manufacturers across 14 halls. Plus, up to 12,000 visitors from 110 countries are expected to attend. The PLMA's Idea Supermarket will display products that won PLMA's 2017 Salute to Excellence Awards for innovation.
This type of strategy presents a challenge for brands as well. "Brands have been so heavily promoted that in many cases they are cheaper than, and cannibalise from, own label," says Wyke Farms managing director Rich Clothier. "Some of the brands have become discount vehicles offering nothing more than price. This makes them very vulnerable in a retailer with a strong longer-term own-label strategy."

But things are changing. The past 12 weeks, according to IRI, have seen own-label prices rise faster than brands as supermarkets seek to manage rising costs in the face of inflation. Own-label base prices rose 1.2% in February 2017 compared with February 2016 - the first increase in three years - while branded base prices fell 0.5%.

"Manufacturers are caught up in the retailer price war, but this hasn't stopped retailers from increasing the price of own-label ranges," says Martin Wood, IRI's head of strategic insight for retail.

Consumers haven't been put off, far from it, with Kantar reporting accelerated own-label growth for this period compared with the year as a whole. Sales are up 4.5%, compared with static sales for brands. If this continues, it looks like own label will keep its spot in the limelight for some time to come.