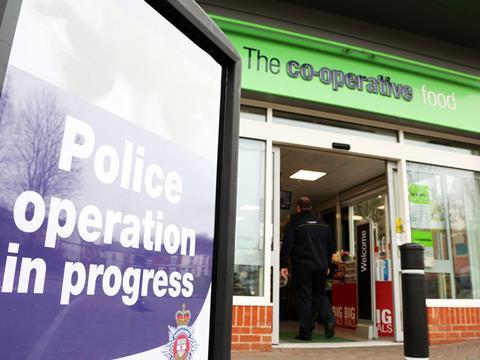 The Central England Co-operative has introduced extra security at dozens of its stores in an effort to keep staff and customers safer.

The measures include a central monitoring system that will allow colleagues to press a button to alert a control room. Staff there will then be able to watch what is happening on CCTV and call for assistance from the emergency services if required.

It has also secured funding for external motion detectors to be installed outside its food stores. These will be activated outside of trading hours. When activated they will switch on CCTV cameras to record any out-of-hours activity and contact the appropriate authorities if needed.

The monitoring will be overseen by the Co-op Secure Response team, which is part of the Co-op Group. This team use state-of-the-art technology to monitor almost 7,000 CCTV cameras across the country.

The Central England Co-op is also increasing its provision of security guards in stores.
The society is rolling out these improvements in its food stores across Derbyshire, Leicestershire, the West Midlands, Northamptonshire, Cambridgeshire and Yorkshire to deter potential store and ATM robberies. It already has a selection of measures in place, such as actively promoting that targeting convenience supermarkets is 'not worth the risk', and full CCTV coverage in all its stores.

"We are aware that incidents such as robberies and ATM thefts are frightening for store colleagues, who are our first priority. We are doing everything we can to prevent incidents like this from happening, but if something does happen we offer them support and counselling both from within our business and specialists," said Marianne Nyambo, loss prevention manager of the Central England Co-operative. "We work closely with police forces across the 16 counties in which we trade in order to protect our colleagues, customers and community."

Nyambo said the central monitoring system in particular would allow for quicker support for its employees. "These measures, along with the ones we already have in place, will hopefully deter criminals and, most importantly, ensure our colleagues and customers feel safe," she added.

Lee Hammond, the Co-op Group's head of secure response, said the society had "worked hard over the past seven years to ensure that the services we offer are the very best for us and our clients' businesses, and are looking forward to working with Central England Co-op to help protect their colleagues, customers and business."