How the Adjudicator has changed grocery
The Groceries Code Adjudicator's annual conference in Westminster carried additional significance this year as it marked the end of Christine Tacon's first term and raised questions about the organisation's long-term direction and future remit.

The organisation has undoubtedly had a positive impact on the grocery sector. Among the standout headlines in the latest GSCOP survey was that the number of suppliers experiencing potential breaches of the code has fallen by almost a third since 2014. The proportion now stands at 56%, down from 62% last year and a high of 79% in 2014.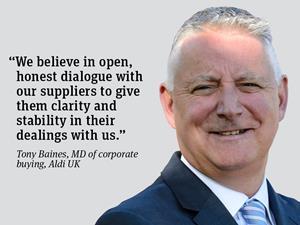 There has also been a significant reduction in supplier complaints on thorny issues such as forensic auditing, unjustified charges and lump sum payments. But although the survey numbers are impressive, they don't fully reflect the positive impact the GCA has had on grocery in the four years since it was launched.

Arguably, its most important achievement has been to bring about a change in culture and behaviour. It has encouraged supermarkets to reassess their relationships with suppliers to ensure there is a collaborative benefit for both parties.

The GCA has been effective in highlighting poor or unfair practices across the sector, which has resulted in a number of retailers changing the way they work with suppliers. This, in turn, has increased trust and transparency levels across the wider industry.

It was particularly pleasing to see a record number of suppliers participate in this year's survey, including more than 500 suppliers to our business.

This is a clear indication that suppliers have the confidence to raise issues with the Adjudicator, which bodes well for the long-term future of Aldi and the wider sector.

From a retailer's perspective, healthy supplier relationships that benefit both sides make sound commercial sense. This has been our approach ever since Aldi opened its first UK store more than a quarter of a century ago.

We believe in open, honest dialogue with our suppliers to give them clarity and stability in their dealings with us. This builds long-term relationships and allows us to provide great products to customers and a fair deal for our suppliers.

In practice this ensures that our suppliers do not make any financial commitments without a prior agreement from us on cost, specifications and volumes.

It means our suppliers are not placed under financial strain in supporting unnecessary bogofs, multibuy promotions or charges for better positioning of goods or increased shelf space. This keeps our sales volumes and buying patterns with suppliers stable and predictable through the year.

Thanks to this approach, we have topped the GCA's survey for the fourth consecutive year, an achievement we are incredibly proud of, and one we are committed to maintaining by working together with our suppliers.

We believe the spotlight that has been focused on the relationships between retailers and suppliers is positive and something that the GCA deserves a huge amount of credit for.

Tony Baines is MD of corporate buying at Aldi UK