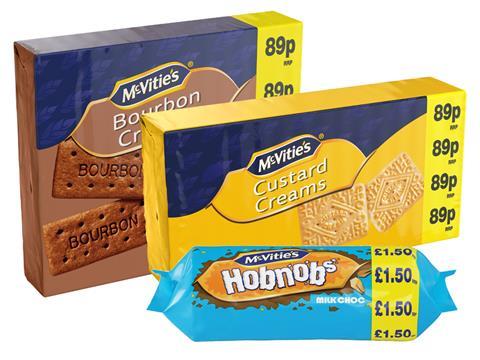 United Biscuits has launched a new category advice strategy to drive sales for independent retailers.

The strategy, Better Biscuits, Better Business, includes two new channel-exclusive launches and a raft of in-store merchandising support as part of a multimillion-pound investment by UB owner Pladis.

Activities include remerchandising fixtures, improved ranging advice and improving availability and visibility in the biscuit category.

The exclusive lines are price-marked packs of £1.50 McVitie's Chocolate Digestives and the 89p McVitie's Biscuit Barrel range to bring prices in line with multiple c-stores. Bestselling lines are now available in a new 15 packs for the price of 12 case size.

The Biscuit Barrel range includes 300g packs of traditional biscuits including Custard Creams, Bourbons and Shorties and offers an improved cash and percentage margin opportunity compared with the previous Crawford's range.

A new McVitie's space-friendly display stand will also roll out across stores. The manufacturer said this, when trialled, delivered a 4.8% category uplift, equivalent to an annual increase of more than £700 per store.

"The launch of our new McVitie's Chocolate Digestive PMP and Biscuit Barrel ranges enable retailers to achieve a higher margin on our products and offer their customers the number one biscuit brand at a great price," said Pladis trade communications controller Hena Chandarana.