Flagship Europe adds veggie duo to foodservice offer
Foodservice provider Flagship Europe has unveiled two new frozen veggie dishes.

Mac 'n' cheese bites and a tomato burger are the latest additions to the company's portfolio.

Available in 2x2.5kg cases, the 80g tomato burger is a concoction of tomato, beetroot, mozzarella cheese, herbs and spices.

The 25g mac 'n' cheese bites are packed 1x3kg, with around 120 bites in each case, and are cooked from frozen within three minutes.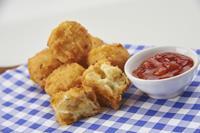 The nuggets are made from macaroni pasta, cheese sauce, and encased in crunchy cornflake shells.

Flagship Europe was launched in 1991 and is part of US food and consumer products group Flagship Food, which is based in Los Angeles and employs 500 staff.

It supplies the foodservice industry with branded and private label products from a range of more than 400 SKUs, including value-added chicken, ready meals, fruit and vegetables, sauces and salsas.