Aluminium alloy prices have risen by almost a sixth year on year as a result of a number of factors affecting both supply and demand.
There have been concerns over supply of bauxite, the main source of the metal, after Indonesia introduced a ban on exports of unprocessed ore earlier this year in an attempt to boost domestic processing operations. From 2007 to 2013, the country accounted for 60% of global bauxite exports.

At the same time, concerns about declining stockpiles have caused an increase in demand from the US automotive industry, which has pushed up prices.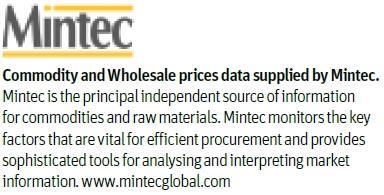 Steel prices are down on both the month and year, due to increasing production in China and the US, and falling demand as a result of slower economic growth in China and the EU.

PET prices have fallen as a result of an oversupplied market and a decline in the price of paraxylene, the feedstock used for the plastic.