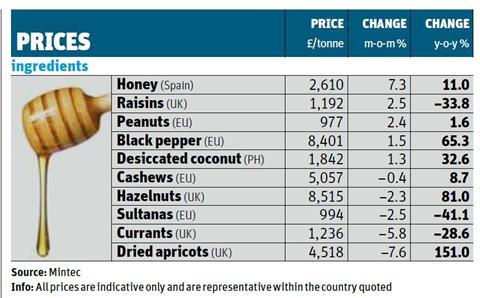 Global production of black pepper has fallen by 5,000 tonnes year on year. This has put pressure on stocks of the spice and caused prices to rise by almost two thirds.

Turkey experienced severe frosts this year, which caused hazelnut production to fall by two thirds. The resulting well-publicised tight supply levels have pushed up prices by more than 80% year on year, though they have fallen back fractionally on the month.

The country also saw a low apricot crop this year, which has caused prices to surge by more than 150%.

In contrast, Turkish production of both raisins and sultanas has increased. Sultana production in the country is up 64% on last year, while a larger raisin crop has contributed to a record global crop forecast, up 5% on last year. Prices for both are down significantly.

Greek currant prices have followed a similar trend, with an increase in production leading to lower prices.