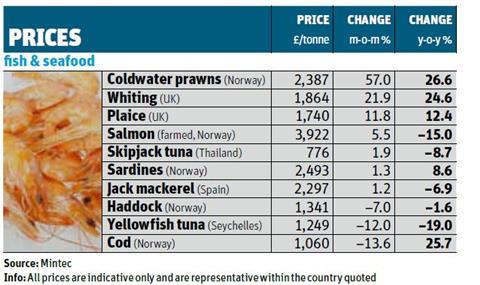 Norwegian cod prices increased throughout last year as a result of increased export demand - particularly from China - and falling supply following a cut in the cod quota in 2014. But prices are dropping month on month following typically high cod catches during the first half of the year.

Tight supplies across the market mean coldwater prawn prices are up year on year and month on month, following low quotas in Canada. UK whiting has also increased as a result of a lower catch quota in 2014.

Norwegian salmon prices are down year on year following a price hike last year as a result of tighter supplies. Stock levels in 2015 were expected to be stable, but bad weather in Norway has damaged fish farms, including salmon farms, and has pushed prices up month on month.

Yellowfin tuna prices are down month on month and year on year due to low demand from Japan.