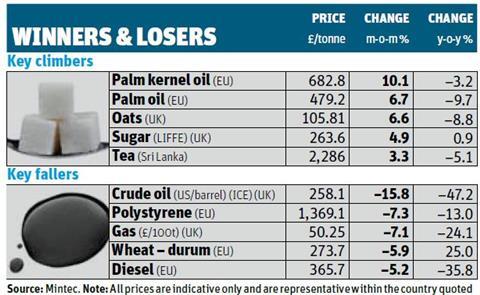 UK sugar prices have risen substantially month on month, as the lack of rainfall in Brazil at the start of the year continues to bring concerns over supplies, already predicted to fall 5% year on year to 35.8 million tonnes as a result of drought in 2014.

UK oat prices are also up month on month as UK export demand grows - with exports reaching 16,000 tonnes for July to September 2014, compared with just 6,800 in the same period a year ago.

Palm oil and kernel oil prices continue to climb following floods in Malaysia. Year on year, palm oil prices are falling.

UK crude oil prices are falling as a result of rising production and weakened demand. Production is expected to increase further.