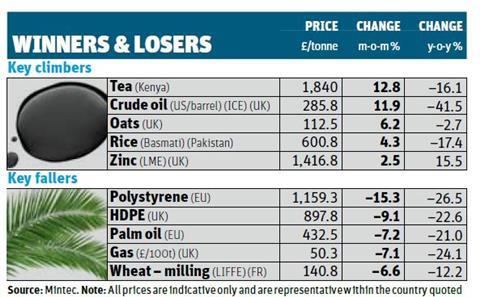 Crude oil prices rose month on month, following speculation major oil companies are to cut spending and that the US intends to reduce drilling. Despite this, prices remain down year on year as a result of strong supplies.

Elsewhere, Kenyan tea prices are climbing as a result of lower harvest forecasts following dry weather and strong demand from Egypt, the largest importer of Kenyan tea.

Basmati rice prices are also rising month on month amid predictions that Mexico will resume imports, lifting its 2013 ban. Increasing EU imports has also bolstered prices.

Palm oil prices are falling after severe floods. Production is set to reach a record 21.3 million tonnes in 2014/15 despite the damage, however.