The continuing fallout from the Ebola outbreak in West Africa has had an impact on cocoa powder, with transport disruption in the region pushing prices up.

Rising car sales in China and the US - which have reached an eight-year high in both countries - have boosted car producers' demand for aluminium alloy and caused prices to increase.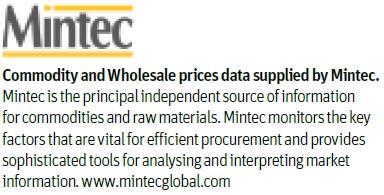 Robusta coffee prices have risen due to the combined effect of a drought earlier this year in Brazil, which reduced supply, and increased demand for robusta in response to the higher price of arabica beans.
Meanwhile, good global supplies of maize - up 14% - and the prospects of a strong 2014/15 harvest have brought down prices.