Aluminium prices have risen year on year and month on month as stockpiles monitored by the London Metal Exchange fell to a two-year low of 4.8 million tonnes.
Recycled paper product testliner has risen year on year due to increased demand from UK converters. Cartonboard prices rose modestly year on year, but have dipped month on month.
Polystyrene prices fell 12.2% year on year, and were affected by both the lower cost of feedstock styrene and stronger sterling.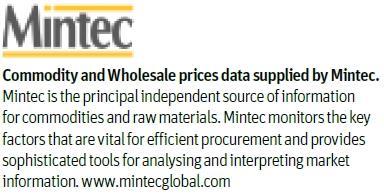 Declines have been recorded for PET - the most common material used in the manufacture of plastic bottles - as a result of increased supply and lower costs of feedstock terephthalic acid.
With supply continuing to outweigh demand, steel prices have fallen year on year. Global steel production - largely driven by Chinese increases - reached 137 million tonnes in July, up 2% year on year.