Gas prices have moved up month on month following EU sanctions against Russia. Concerns Ukraine may block supplies from Russia into Europe have also caused prices to rise over the past month. However, on a year-on-year basis, gas is much cheaper.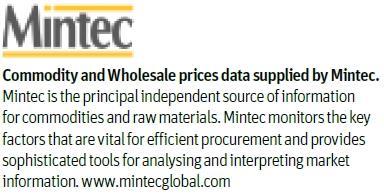 Increased demand for Kenyan tea continues to cause prices to rise. Recently, cooler weather in Kenya has threatened supplies after increased production in 2013 caused supplies to build up and prices to rise. Arabica prices remain on the boil because of reduced supplies from Brazil, and a reduced crop from Central America.

At the other end of our table, milling wheat prices continue to drop as large global supplies are expected.