Recent cold weather has led to a decline in the supply of iceberg lettuces. As a result, UK prices have risen by two thirds on last month. They are also up by almost half on last year.

Heavy rains in Costa Rica have caused a reduction in the quality and availability of bananas, causing prices in the EU to rise by a fifth year on year.

A combination of favourable growing conditions and an increase in planted area has led to a rise in onion production across the major EU producing regions. As a result, prices have fallen by almost half to £180/tonne since last year.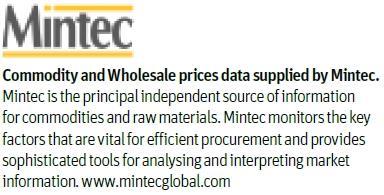 Warm weather this year benefited the pear crop in most European countries that produce the fruit, leading to increases in yield and quality that have pushed down UK prices year on year.

Pepper prices are down more than a sixth on last month, as supply switches from the Netherlands to Spain, where good volumes are expected.