The global dairy commodities markets have taken a pounding of late (see Second Analysis p14). EU whole milk powder and SMP prices have continued to fall over the past month, and are now nearly 25% lower than a year ago. Weaker demand - including reduced export demand - has seen prices fall as buyers have withdrawn. Prices have also plummeted in the US and Oceania.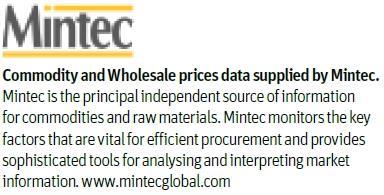 Butter prices in the UK are down nearly 20% year on year as a result of higher milk volumes this year, as well as reduced international demand.

In the egg markets, egg yolk powder is down 16.2% year on year - increased demand for egg whites has led to more eggs being processed and, therefore, more yolk powder being made; however, demand for these is not as great as for whites.

Conversely, liquid egg white prices continue to soar thanks to strong demand for white as a healthy ingredient; a reduction in flock size in Europe has also led to tighter supplies.